A New Smile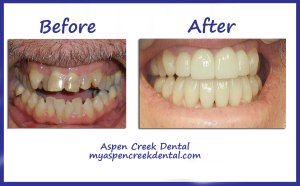 Tom K. had been uncomfortable with his teeth for as long as he could remember, when he finally decided to go see an orthodontist to discuss braces.  His orthodontist, Dr Greg Guymon, said braces could improve his bite function and appearance. Dr Guymon sent Tom to Dr. Adams for the extraction of four teeth to improve extreme overcrowding. Tom then wore braces for two years to straighten his teeth.  When the braces came off, Dr Adams did further repairs, and ended up placing 7 porcelain crowns. "My four front teeth on top were so worn from all those years of an improper bite, that they just needed crowned," Tom said. "Dr Adams also put crowns on 3 molars and matched the color of all the rest of my teeth."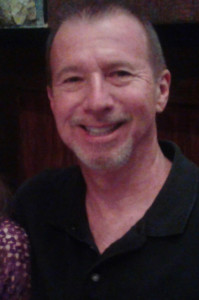 "I don't know why I didn't do this earlier," Tom says. "Both Dr. Adams and Dr. Guymon were very positive, and said they could definitely improve my teeth. I was hoping for at least a 50% improvement. I didn't know it would be 100% and more.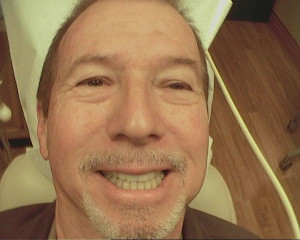 Dr Adams said it was going to look and feel better and explained the steps as we went. I kept wondering if this could really be done, and now I'm amazed. It was been about 6 months since we finished, and my life has changed. I can smile and not be embarrassed. I feel great about myself. I'm more outgoing and I believe it was worth every minute and every penny."
Aspen Creek Dental provides consultation on improving your smile. If you have questions, make an appointment anytime.